Bryan Leigh joins ColumbiaNational Real Estate Finance, LLC
Washington, DC (May 20, 2021) – ColumbiaNational Real Estate Finance, LLC, a leading commercial real estate mortgage banking firm, is pleased to announce the key acquisition of Bryan Leigh as Senior Vice President. He will be focused on arranging debt and equity for all deal profiles and all asset types, including land, data center, industrial/warehouse, life-science, self-storage, office, retail multifamily and mixed-use projects. He will work in the downtown Washington, DC office.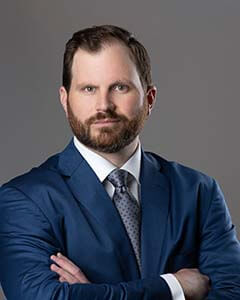 Bryan Leigh comes to us with 14 years of commercial real estate experience. Prior to joining ColumbiaNational, Mr. Leigh was Senior Vice President of Commercial Real Estate at EagleBank where he was a top producer and closed over $1.7 billion in debt and was instrumental in the growth and development of the Bank's lending platform.
"We are excited to have Bryan join the team in Washington, DC. He has a passion for commercial real estate deals, integrity, and he hustles" says Managing Director, Scott Park. "I am confident that ColumbiaNational's deep relationships with multiple capital sources will allow Bryan to offer highly competitive loan alternatives to his borrower clients", adds Managing Director, David Rogers.
ColumbiaNational Real Estate Finance, LLC maintains origination offices in Washington, DC and Baltimore, Maryland. The loan servicing and asset management functions for the $5.2 billion commercial mortgage loan portfolio are performed in the Columbia, Maryland office. Since 1939, ColumbiaNational has provided competitive debt and equity solutions to owners of institutional quality commercial real estate.